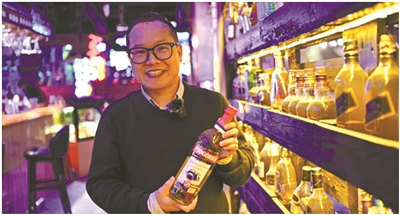 Zhang Yimai, head of the Central and Eastern Europe (Ningbo) Cultural Exchange Center, presents a bottle of Rakija, Serbia's "state banquet wine". (Photo by Yang Hui)
  China and Central and Eastern European Countries (CEEC) have been keeping their business cooperation up in the recent decades. Ningbo ranks first across China for two consecutive years (2020 and 2021) in the assessment scheme of 17+1 cooperation. Among its substantial achievements in the trade and cultural exchange are the first Central and Eastern European Countries' Products Fair (CEEC Fair), four consecutive China-CEEC Expos, and the CEE Products Online Fair. Also – in March 2021 – Central and Eastern Europe (Ningbo) Cultural Exchange Center was inaugurated for a stronger partnership with countries of the Belt & Road Initiatives as well as a dynamic, diversified, and sustainable bilateral development.
  Zhang Yimai, owner of a Serbian restaurant and director of the cultural exchange center, shared his experiences with Ningbo Evening News in promoting the cooperation between Ningbo and Serbia (Chinese "iron friend" from CEEC).
  Upon arriving in Serbia in the early 2000s, Zhang started a wholesale and retail business on daily essentials such as clothing and electrical appliances. At that time China had become one of most important trading partners of Serbia, and Chinese products and culture have been highly embraced among local Serbians. Zhang runs a successful business and his sharp mind embraced opportunities amid the economic and political stability of this CEE country.
  The first encounter of Zhang with Ningbo happened in 2015 when he sought business opportunities at the first China-CEEC Expo. Having successfully sold Serbian food as well as alcoholic and non-alcoholic beverages, Zhang decided to return to China in 2016, promoting mutual exchanges as well as bilateral trade (including importing Serbian specialties such as food and wine).
  Now Zhang runs a Serbian restaurant in Ningbo's Sanjiangkou (confluence of Three Rivers—Yuyao River, Fenghua River and Yongjiang River) to serve as a platform for both local citizens and expatriates to engage in sporting, artistic and educational activities. At this restaurant, Serbian-style haggis soup, beef soup, Serbian sausages, and Balkan lamb chops are served within a large stainless-steel pot in the Serbian tradition. Beside Serbian coffee and seafood with Serbian flavor sauces, Rakija, a state-banquet wine from Serbia, is also served here. Fermented from fruits, this wine shares a similar flavor with Chinese Baijiu and is distinguished by its fruity aroma.
  Expatriates in Ningbo are among the regulars of Zhang's restaurant, spending weekends and enjoying Serbian delicacies. This also opens up a window for Ningbo Evening News to know more about lives and work of these expatriates. Expatriates from Serbia, Canada, and Greece are working in different sectors such as international trade and education. Bojan Popovic was a basketball player before moving to Ningbo; he currently works as a basketball coach and meanwhile engages in international trade with his friends. "Ningbo is a nice and warm city. The local citizens are friendly. We come to this restaurant often with friends to chat and spend time together." Vladimir Brusic, a Serbian professor who works at the University of Nottingham Ningbo China said.
  Apart from running the Serbian restaurant, Zhang is also engaged in promoting cultural exchanges through other ways. He established a football club for both local football fans as well as retired football players and regularly organizes attendance at Ningbo Fubang Stadium. In addition, Zhang initiated a book-donating campaign in Serbia, successfully promoting Yangming Philosophy of the Mind (one major philosophical school of Neo-Confucianism) based on the ideas of the Ningbo-born philosopher Wang Yangming (1472-1529). These activities are quite popular among Ningbo citizens and expatriates and have been recognized by Serbian people. For Zhang, more activities featuring Ningbo and Serbian culture are expected to be organized for young generations and students from Ningbo and Serbia, such as beer festivals, music festivals, movie weeks, culture weeks as well as talk shows.
  The year 2022 marks the 10th anniversary for the establishment of the China-CEEC cooperation. Zhang and his cultural exchange center will continue to join this joint enterprise and promote bilateral cooperation in such fields as trade, education, and culture.
  Reporter: Mei Jie
  Proofreaders:
  Huang Dawang, Qu Zhiyang, Jason Mowbray